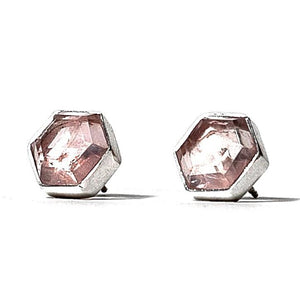 Allow the compassionate properties of gentle rose quartz to open your heart chakra, attract love & enhance self love.
Inspired by the intuitive abilities of honeybees, 

hand cut hexagonal rose quartz studs wrapped in sterling silver 

are 

a 

tribute 

to the functional and timeless beauty of nature
Diameter 14mm
Includes a monogrammed Saraswati recycled cotton gift box.
Each piece is hand-made & unique, c
olour and clarity 
will vary for each stone.