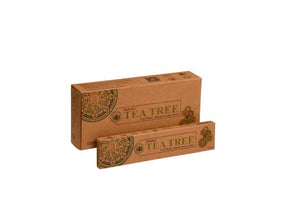 Organika Tea Tree 15g, Incense Sticks
15 Sticks
Tea tree also known as Melaleuca alternifolia, has a fresh camphoraceous odor, native to Southeast Queensland and the Northeast coast of New South Wales, Australia. Tea tree fragrance has been used in traditional medicine, The magical healing and disinfectant properties make it a wonder fragrance that cleanses the place where lit. However, the fragrance is meant for fragrance purpose only! Enter the World of Wellness in a Natural and Healthy Way!  NOTE: Do not use in your home if you have pets!
Agarbathi
Country of Origin: India
Dimension: Incense Stick Height 20cm
Dimension in Inches: Incense Stick Height 7.87"