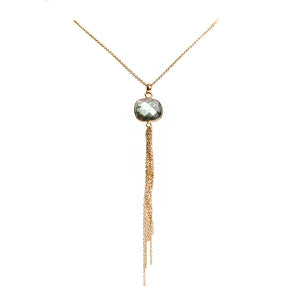 Gold plated and labradorite:
Known for its protective qualities in deflecting unwanted energies, labradorite is a highly mystical and calming stone, raising consciousness to connect to universal energies. 
Shimmy, shine, and dance with the night sky. Cushion cut labradorite set in 14K gold, plated onto sterling silver.
Each piece is hand-made & unique.
Necklace Length: 120mm pendant on 32" chain