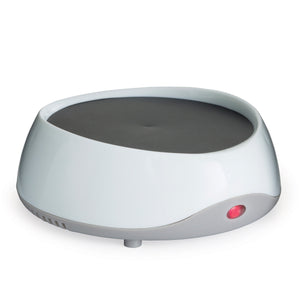 Our Auto Shutoff Candle Warmer quickly melts scented candles to release fragrance, and is programmed to automatically shut-off after eight hours. 
Safely warm candles without the risk of flame, soot, or other pollutants.
Our larger plate design fits most of your favorite candles.
Candles warm from top to bottom, releasing their fragrance. 

Length: 5.2"

Width: 5"

Height: 1.75"

Weight: 0.4 lb.

Electrical Rating: 120V, 60Hz, 17W

Switch Type: Dial Switch

Warming Plate Diameter: 3.93"

Testing Approval: ETL Listed

Programmed to shut off automatically after 8 hours.

*Fits most 16 oz. candles or smaller.