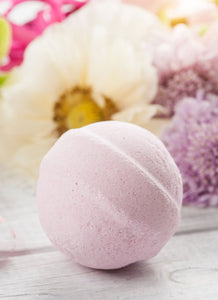 Our 5 oz/140g bath bombs are hand-packed and contain natural skin healthy oils which give you the ultimate bath luxury! They are scented to create a relaxing bath experience and a great way to complement our natural handmade soaps. When immersed in water, you can expect an impressive fizz for about 90 seconds as the oils are dispersed.
A wonderful scent that will keep you wanting more!
Ingredients: Baking Soda, Citric Acid, Grapeseed Oil, Fragrance, Amethyst
Grapeseed oil is added because it's rich in vitamins C, D and E – which help reduce wrinkles and scars. The antioxidants help treat acne and act as a moisturizer, balancing the dry and oily patches of skin. Grapeseed oil is also known to reduce clogged pores.
Note: Due to the hand packed, machine pressed nature of our bombs, allow for variations in the appearance of the final product. All bath bombs are sold in a heat shrinked film.
Hand Made in Canada