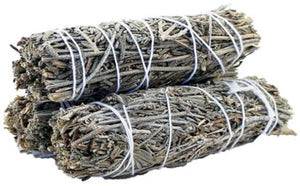 Natural Product
It is one of the oldest and most well-known herbs for energy cleansing your home. Besides removing negative energy, using sage to cleanse a home helps to neutralize the energy of the space, enhancing your intuition. ... Lavender brings a positive energy, opens the heart chakra and calms the mind.
This sage is most often used to induce a state of calm and promote restful sleep
LAVENDER SAGE
Country of Origin: USA
Dimension: L 10.16cm
Dimension in Inches: L 4"