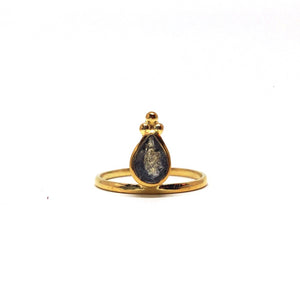 Known for its protective qualities in deflecting unwanted energies, labradorite is a highly mystical and calming stone, raising consciousness to connect to universal energies.


A highly mystical stone and bringer of light, shimmering and faceted labradorite set in 14K gold, plated onto sterling silver.  
Each piece is hand-made & unique.
Colour & clarity will vary for each stone.


Includes a monogrammed Saraswati recycled cotton gift box. 


Height: 12mm