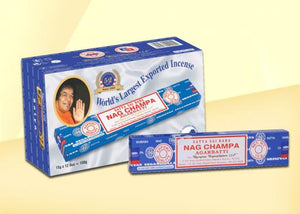 Nag Champa 15 g, Incense Sticks
15 g /Pack
Satya Sai Baba Nag Champa is the number one selling incense around the world. This incense is special because it is prepared under the strict supervision of Satya Sai Baba, according to a blend of natural herbs. Be careful of imitation brands of Nag Champa.  This incense smells absolutely divine.  
Agarbathi
Country of Origin: India
Dimension: Incense Stick Height 20cm
Dimension in Inches: Incense Stick Height 7.87"