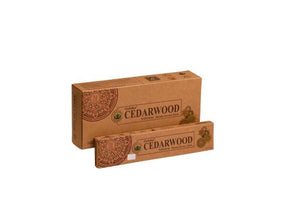 Organika Cedarwood 15g, Incense Sticks
15 Sticks
Cedarwood (Cedrus deodara) believed to be the very first fragrance ever to have been distilled. Ancient records show both the wood and oil were used for an extensive range of purposes including medicine and incense. They have been used in traditional and Ayurvedic medicine for centuries. Part of the reason cedar is aromatic is because it bears thujaplicin, a natural antibacterial and antifungal agent. Enter the World of Wellness in a Natural and Healthy Way!
Agarbathi
Country of Origin: India
Dimension: Incense Stick Height 20cm
Dimension in Inches: Incense Stick Height 7.87"