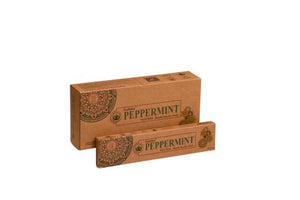 Organika Peppermint 15g, Incense Sticks
15 Sticks/ Pack, 6 Packs/ Box
Peppermint has been used for thousands of years. It has a pleasant and popular fragrance. The main active ingredient in Peppermint is Menthol, which is an organic compound that produces a cooling sensation The scent of peppermint is energizing and inhaling it's scent can result in heightened levels of energy. 
Agarbathi
Country of Origin: India
Dimension: Incense Stick Height 20cm
Dimension in Inches: Incense Stick Height 7.87"