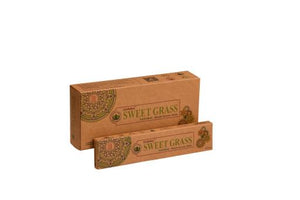 Organika Sweet Grass 15g, Incense Sticks
15 Sticks
"hierchloe odorata" which translates literally as "sacred grass" and is found both in the Old World and the New. The scent is used in spirituality and prayer. They are often used for smudging and their sweet smell is said to please ALL the spirits. Most people burn sage after burning sweetgrass as this will keep less positive forces at bay. This healing herb has a prominent place in daily ritual and prayer as well as a place in aboriginal medicine. The active ingredient in sweetgrass that makes it smell so wholesomely wonderfulis coumarin. Enter the World of Wellness in a Natural and Healthy Way!
Agarbathi
Country of Origin: India
Dimension: Incense Stick Height 20cm
Dimension in Inches: Incense Stick Height 7.87"