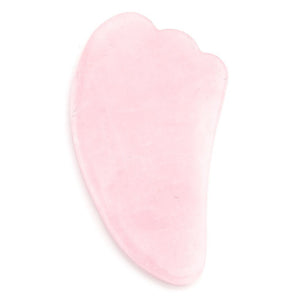 Gua Sha is a treatment technique that involves pulling a rose quartz stone along the skin, stimulating the skin layers to reduce puffiness, promote anti-aging, flush out tissues via lymphatic drainage, and much more. Featuring an ergonomic design that adapts to the contours of the face, Gua Sha Rose Quartz Facial Massage Tool is an excellent addition to any routine to help make facial features appear more youthful and well rested.
Natural crystal stone
Improves blood circulation and skin tone
Promotes lymphatic drainage and collagen production
Reduces puffiness, wrinkles, and dark under-eye circles
Eliminates toxins
Can be refrigerated to extend the coolness
Due to natural variations in the color of the crystal, each facial roller will be unique in color and stone marbling.​
How To Use:
1. Apply serum or oil of choice to your skin. 

2. Use the Gua Sha tool to apply light pressure to the center of your forehead and scrape from the middle of your eyebrows to your hairline.
3. From the middle of your forehead, scrape from the center out to your temples.
4. Use the smaller curved end to scrape from your inner brow bone to the outer brow bone. 
5. On your cheek and under eye area, start on the sides of the nose and sweep the tool from the center to the perimeter of your face.
6. Repeat the same motions on the mouth, chin, and jaw areas. Move the tool from the center to the outer parts of your face.
7. Start on the top of your forehead and scrape down to your temples, down to the sides of your neck, and stop mid-collarbone. 
Do about three strokes per section and scrape both sides of the face for a completed facial massage.