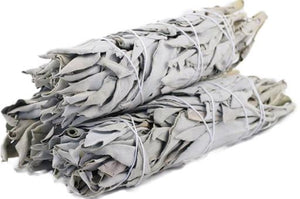 Natural Product
White sage is used for cleansing or "washing off" the outside world as you enter a sacred state.
"Once you're ready to light your sage, grab the sage as far from the end you are burning as possible. Hold the sage at a 45-degree angle, light the sage, let it burn for about 20 seconds and then gently blow out the flame so that you see orange embers on one end. Then you can start the process of clearing your space."
White Sage
Country of Origin: USA
Dimension: L 15.24cm
Dimension in Inches: L 6"