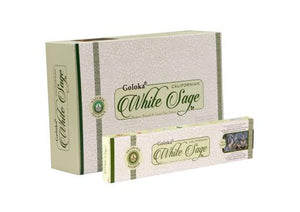 White Sage 15g
15 Sticks
The essence of the Goloka Californian White sage is sourced from the high desert of California. White Sage is considered a sacred, cleansing, purifying, and protective plant. These incenses release a refreshing, cleansing scent. Traditionally used by Native Americans to ward off evils spirits and negative energies, also used in ceremonies to seek blessings of health & prosperity, and encourage protection. The Spirit of White Sage is dedicated to offering protection, blessings, and clearing.
Agarbathi
Country of Origin: India
Dimension: Incense Stick Height 20cm
Dimension in Inches: Incense Stick Height 7.87"